Covenant Christian Academy
Kindergarten Cap and Gown
Event Dates: Wed, Jan 18, 2023
1. Little Graduates Sessions!
Your school's caps and gowns are BLUE.
Please make sure your child's hair is styled to wear a cap neatly. (Please do not use large bows or other hair accessories.)
Some of your child's clothing may show under the gown – please dress them in a plain white shirt with no writing or patterns near the neckline.
Shirts with collars are great, but please make sure they are neat and ironed.
Ties for boys make a nice appearance under the gown.
Shoes will show in some pictures.
Check out some of our sample images here: Cap and Gown Pictures Gallery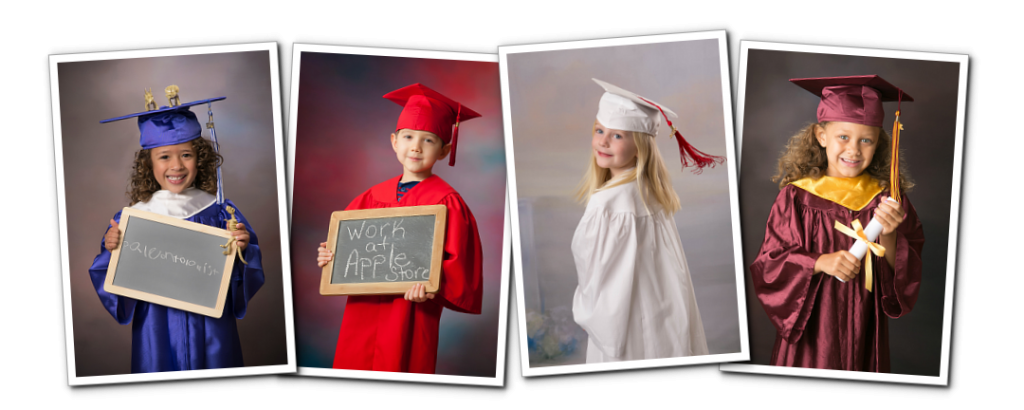 2. Senior Tux & Drape Sessions

You will have 6-9 poses to choose from.
We will provide the Tux or Drape for your senior.

Guys – please should bring a PLAIN WHITE t-shirt for under their tux.
Young Ladies – please bring a camisole for under their formal drapes.

The session fee is $35

Each senior should bring a check for $35 made to Spoiled Rotten Photography.
The session fee covers

Time and talent of the photographer
Use of the tux or drape
Selection of your yearbook pose
Retouching of your yearbook pose

The session fee does not include any prints or products, and you will not get a credit.
Our Policy: We work hard to ensure that your photos are perfect, but in the event we miss something, we are happy to make it right! However, being prepared for your session is key. If you were unprepared or if you just didn't like the way you looked that day, you may be subject to a re-sitting fee.
3. Yearbook Absentee Sessions

Fun Extras…
We'll work to give you a variety of looks… depending on how comfortable your student is, we strive to give you at least 5 images in your proof set.

Our goal is to make every child look their best!
Clothing Suggestions
The yearbook is a cherished time capsule that captures the memories throughout your school years. And while you may not think much about your yearbook portrait now, trust us – in 20 years, you'll be glad you took the time to dress for success.
When it comes to what to wear, our best advice is to keep it simple.
Stick to solid colors and avoid bold patterns, which can be distracting.
Layers are always a good idea – they add dimension and interest!
And don't forget accessories! A statement necklace or pair of earrings can really help to pull your look together.
So go ahead and take a few minutes to plan your outfit – your future self will thank you.
---