Portrait info for LSP – Spring 2022
Our Spring 2022 Set... True Blue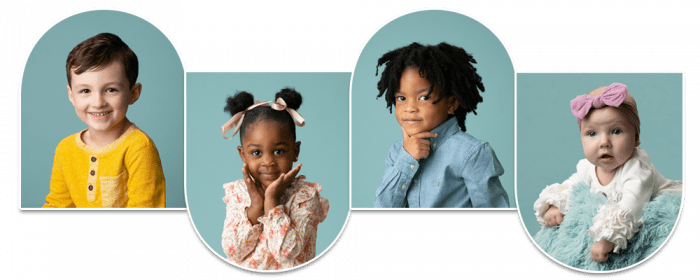 We are delighted to partner with you for Spring 2022!
We will be using our "True Blue" set (as shown above).
Spring Portraits are INDIVIDUAL portraits (NO SIBLING PORTRAITS)

For Spring 2022, we will photograph INDIVIDUAL portraits only.

SEND CONTACT DATA FOR NEW STUDENTS

Please send your local photographer any NEW student's (as of Feb 22, 2022) contact info.

Corporate provided SRP each student's contact information as of Feb 22, 2022.
We need student name, parent's name, parent's email and parent's cell phone.

SESSION DATES & TIMES

Your school has been scheduled through our local photographers. If you have a question on when your school is scheduled, please contact your photographer.

INFO FOR YOUR PARENTS

Your local photographer will send you a handout for each student

Please send handout home with individual children (please DO NOT leave marketing material on the counter for parents to pick up)
Send handout 2 weeks before the portrait sessions

SRP will create a detailed webpage for each location's portrait day
SRP will provide an informative email for directors to send to parents for each event
Please inform parents of their scheduled portrait day

LOGISTICS

SESSION TIMING. Generally, sessions are between the hours of 7am – noon.

SESSION LOCATION. Your local photographer will work with LSP directors to find an appropriate indoor location. Most will be in your flex classroom or lobby.

SESSION SCHEDULING.

Please check with your photographer about how many students to schedule for each day.
Please do not schedule all the infants and toddlers on the same day

Younger children and babies have a smaller window of patience and good awake time, so please schedule them evenly across all the portrait days.

RUNNER.

We spend 3-5 minutes (give or take a few depending on the student's comfort level).
Please provide a dedicated runner to bring small groups (3-5 children) to the portrait location.

PICTURE DAY PLAN COMMUNICATION. Please share picture day plans with teachers so they are prepared to have children ready at the appropriate times.

PRICING & COMMISSION

SRP will use our campus candid price list
SRP local photographers will pay commission of 10% of gross sales to each LSP.