Campus Candids Operations
Published on July 12, 2017
There are several occasions where you will be outside to photograph and will not require the full set up of 3 studio strobes.  In this chapter we will explore the use of natural light, and the use of a single strobe.
The types of sessions where you can expect to use natural lighting or supplement natural lighting with a strobe are:
Campus Candids
Outdoor Mini-Sessions
Custom Sessions
Finding the Light
Finding good light is one of the most important aspects of creating a great natural light portrait.  In the most basic sense, you need to find soft even lighting where the subject has good catch lights.   The background needs to be considered next — it should be uncluttered, and have no merge errors.  At some locations we may have to create this light using a tent or a strobe.
Campus Candids Operations   
Campus candids is an important part of our school offerings.  We are best known for our stylized studio mini-sessions where the parents elect to have their children's portrait made.  When we provide campus candids sessions, we typically photograph every child at the school.   Here's how our campus candid sessions are different:
We spend on average 3 minutes with each child (some may be only 1 min, and some take as long as 5 min).  Elective sessions take 8-10 minutes.
We only photograph individuals.  Sibling portraits are reserved for elective mini-sessions.
We typically do not use a background or studio props.   We provide the parents six (a min of 3, no more than 9) images to choose from.
The price point is lower and packages are less expensive than the elective session.
We are typically outside.  In case of inclement weather or if the school does not have a suitable outdoor location, you can do indoor campus candids, too.
Selecting Location for Campus Candids
 SHADE.  This is a must.  Be mindful that you will be at the location for several hours and the lighting will change when the sun is higher in the sky!

Look for overhangs- they are best to provide directional lighting.

Rain porches
Covered Playgrounds
Covered drop offs can work too (make sure you have a plan for traffic)
You can bring a white EZ-UP tent (it helps to have a tent with sides.)
 
 

Uncluttered Background

Look for green areas
Patches of grass can also be a great background when you  photograph from a higher angle.
  
Brick or solid color walls
Solid Fences (if they are slatted, you can sometimes shoot at an angle where they seem solid)

The 3rd thing we look for is back lighting.  We want the sun to be behind our subject.

This creates our separation light beautifully (without the use of a light)
Our strobes are "daylight balanced"  — they are the same color temperature as daylight, so you won't have weird color casts on their head due to different lighting sources.
If you don't have a place where you have back lighting, you can add an additional strobe for the separation light.
See the image below.  It has beautiful separation thanks to the sun position!
Sample Images..
For this image, we found a shade tree… (yea!) with a green uncluttered background- perfect!  We added silk flowers (yellow and pink- from Hobby Lobby) to the background to give a little color and interest.
IMPORTANT:  (This was just outside the preschool's fence.  Some schools are very reluctant to go outside their fence, so make sure you get permission from the director first.)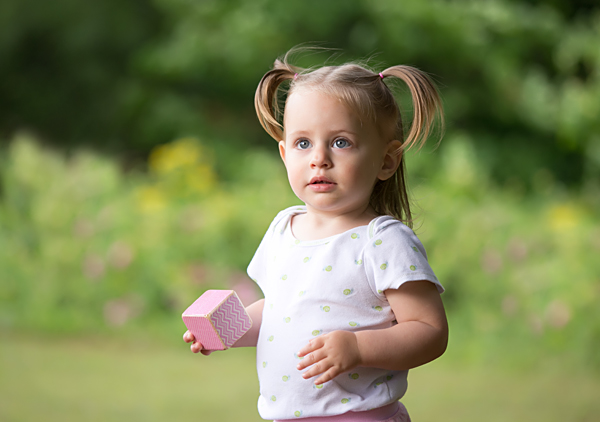 In the next image, the tree provided great shade, but, unfortunately,  for children that need to be photographed in the basket, they would have dirt as the background.  So when photographing at a shallow depth of field, you can add silk greenery or flowers to create a more pleasant background.
IMPORTANT:  Do not photograph silk flowers with a large depth of field — we don't want fake flowers in focus!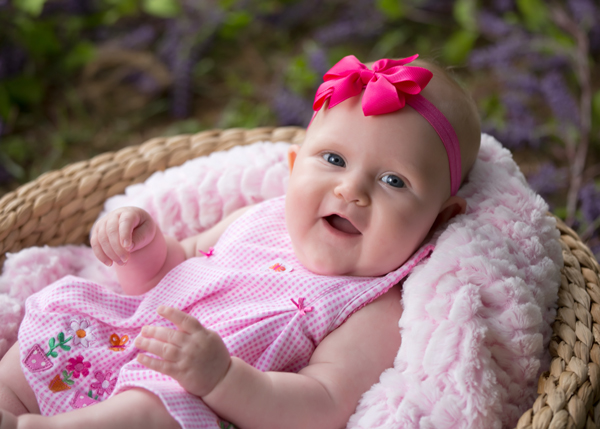 This image was taken under an overhang and the background is really uninspiring if you just looked at it… but with a shallow depth of field, and the correct angle, it looks like a park setting.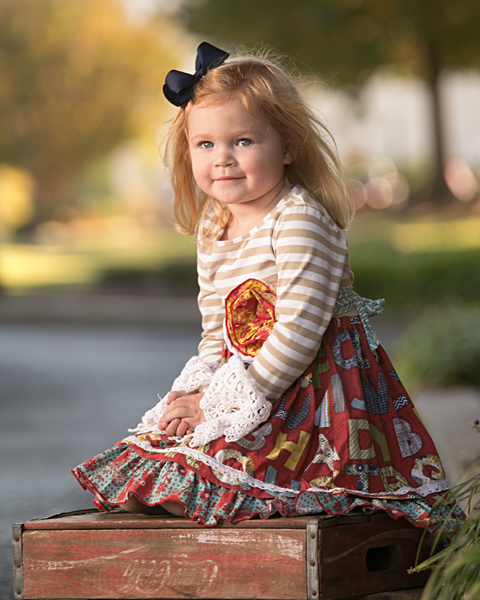 Ok, you've found the perfect shaded and uncluttered background… How do you create beautiful and consistent outdoor lighting in the shade?
You use a strobe!  Your color temperature will be consistent and you will have the same light source for many hours!  All you need is shade, an uncluttered background, and hopefully the sun for back lighting.