What to Wear
One of the most common questions we get at Spoiled Rotten Photography is "What should my child wear for their portrait session?" See below for some helpful suggestions based on the current set we are showcasing. We've also included recommendations for our popular Mini sessions.
Clothing Suggestions for our Fall Free Spirit Set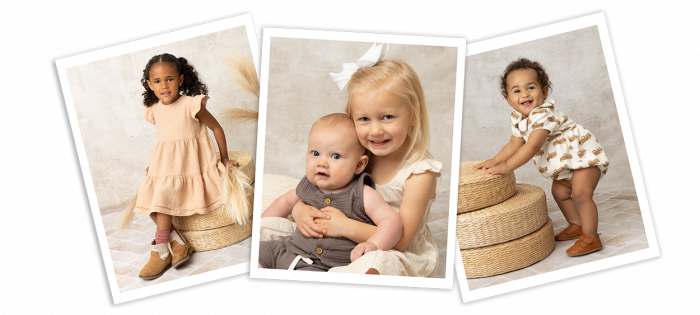 Saddle up for your next adventure with Spoiled Rotten Photography! Dream of running wild, with the wind in your hair, with the natural earth tone elements on this modern boho chic portrait experience. Pick an outfit to complement your child's personality! Our Fall 2023 sample gallery features neutral tones like white, khaki, cream and browns. And if denim is more your style? It looks amazing on the Free Spirit set too!
Add a bow tie or some suspenders to make any outfit stand out. Oh…and don't forget your unique jewelry pieces too- these added touches will help show off your child's individual flair!
Our photographers love to work with the personal items you send with your child… a lovie, blankies, fresh flowers, an heirloom toy, etc. When you register your child for mini-sessions, make sure you leave a note about the item you plan to send with your child so we make sure it gets included in a few portraits.
Check out the Free Spirit Gallery and curated clothing guide for some outfit inspiration.



Choose Solids or Small Prints
Choose SOLIDS or SMALL PRINTS. The look of campus candids will vary greatly depending on your school's facilities. The best bet is to send your child in clothes you love!
Avoid bold patterns, stripes, large logos, or writing
Avoid bold patterns, stripes, large logos, or writing. We want the portrait to be all about the amazing subject! Crazy clothes with large patterns brings your attention to the clothes, not their beautiful faces!
Add layers & accessories
Add layers & accessories (hats, jackets, scarfs, jewelry). This is a great way to add variety to your images and gives your portrait depth and dimension.