Angel Portrait Sessions
Published on February 1, 2016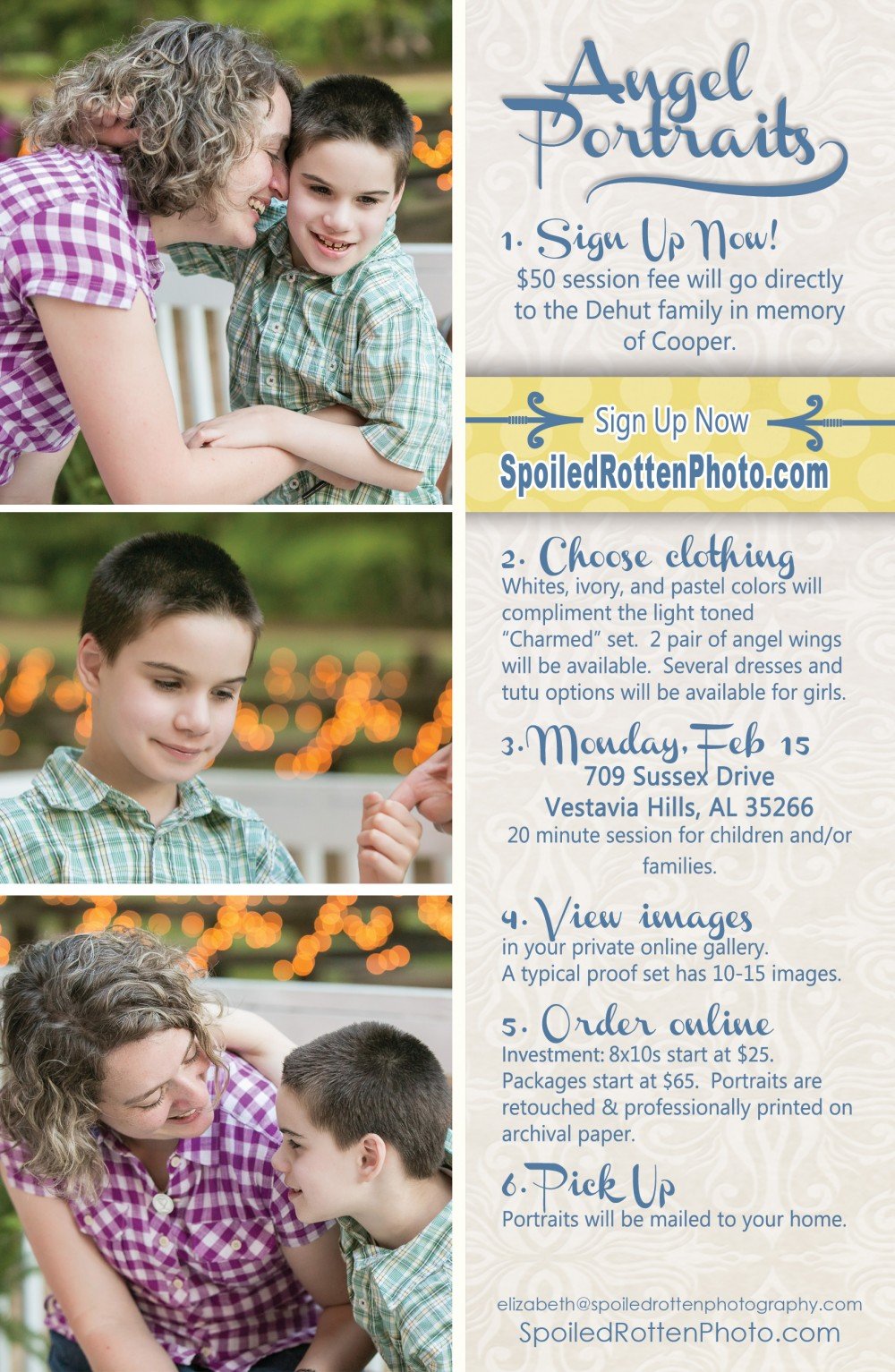 Join us for Angel Portrait Sessions in Birmingham, AL! Cooper experienced Victory over death the morning of January 29th at home surrounded by the family that loved him dearly.  Join us in supporting the Dehut family with a blessing fund as they make final arrangements for their Angel, Cooper Daniel.
Monday, February 15
709 Sussex Drive
Vestavia Hills, AL 35226
Sessions beginning at 9 am through evening hours.
1.  Session Fee:  $50 (1-4 people)  add $10 for each additional person photographed
Anyone can be photographed.  Babies, siblings, cousins, families!  A typical proof set will have 15 images.
We will contact you with your exact session time.  If you need a specific time, please let us know in the special instructions field when you sign up.  SIGN UP TODAY to assure your preferred time!  There are a limited number of session available.
2.  Choose clothing to coordinate with the Charmed set.
Simple white or off white clothing will look best for this type of session.  Pastels will also work well. Boys could wear jeans with no shirt.  I will have several studio outfits that will fit girls in the 2-13 age range if you would like to use those.  See sample gallery of images below.
We will have a set of white and tan colored angel wings that can be used with your child.
For a family portrait– you want to look like you all belong together, but not like you are wearing a uniform.  Dress in similar tones.  Here's a hint- lay all your family's clothes out on the bed, if they could somehow all be worn by one clothing item will attract more attention in your portrait too… if the item of clothing stands out too much, you might want to consider substituting something different for that clothing item.
 Props:   You can add fun Valentine elements, or keep it simple for a traditional classic look!   Bring fresh flowers, wooden toys, dolls, a favorite stuffed animal, musical instrument, their lovie or anything else your child loves… well, only if you want to see it in their portrait!

—>> See our Pinterest Board for more clothing that we think would look fabulous on the Charmed Set! <<—
3. Portraits will be taken at 709 Sussex Drive, Vestavia Hills, AL 35226

We we will contact you with your session time.
4. View your images in your private on-line gallery.  A typical proof set has 10-15 images.
You can share your access code with family and friends to show off your images!
5. Order on-line. 8x10s start at $25.  Print packages start at $65 and are available with increasing discounts.  Digital options are available for use in Valentine cards or other photo gifts!  A digital artist enhances each image, and portraits are professionally printed.
6  Portraits can be mailed directly to your home.
A little back story shared by Cooper's Father, Jeremy….
This is our second oldest, Cooper Daniel. He was born in the spring of 2005. He was healthy, mostly bald, and chubby, with dark eyebrows and a slightly turned in eye. He smiled and ate well, and we loved him from before he was born.
One day, while I was in the Philippines on an evangelism trip Anna sent me an email to tell me that Cooper had a seizure. She assured me he was fine, and that they couldn't wait for me to get home, and we would look into it when I got home.
That day marked the beginning of a journey that we couldn't have predicted. We were introduced to all kinds of medical labels, "autism", "cerebral palsy", "epilepsy" and "cortical blindness". From experience we also learned about the different kinds of seizures, petite mal, grand mal, status epilepticus, etc.
We have toured the country from one coast to the other looking for help. We've seen doctors, therapists, and specialists. Cooper and I traveled by ourselves to see someone in Oregon before he was two. The family flew to Massachusetts to meet another. We saw a wonderful ophthalmologist in Connecticut. There were local therapists and chiropractors that have helped care for Cooper and promote his health. More than all of that, we have had the constant intercession of believers petitioning God on our behalf!
Over 16 months ago, before we moved to AL, a subtle change began in Cooper that has accelerated. He developed anxiety about leaving home and going out in the public, to the point that Anna and I began taking turns attending worship and Bible class so that we could both have the chance to spend time with our church family. Since moving his anxiety has increased to the point where he takes a daily dose of Valium 75% of the time. His energy has decreased to the point where he curls up in some sunshine in our bedroom after breakfast and then climbs onto the couch to sleep at 4 PM. He has not gained any weight in 14-15 months.
And those seizures…The seizures never stop coming. We have tried multiple drugs, one of them for two years, and none of them have been successful in stopping the seizures. Our current neurologist believes the seizures are a symptom of a genetic disorder, which means they will never go away. We are finding that to be the case. He suspects that Cooper may have a genetic disorder that our other son, Whitaker likely had and which led to his death in 2013.