Valentine Mini Sessions
Published on January 26, 2016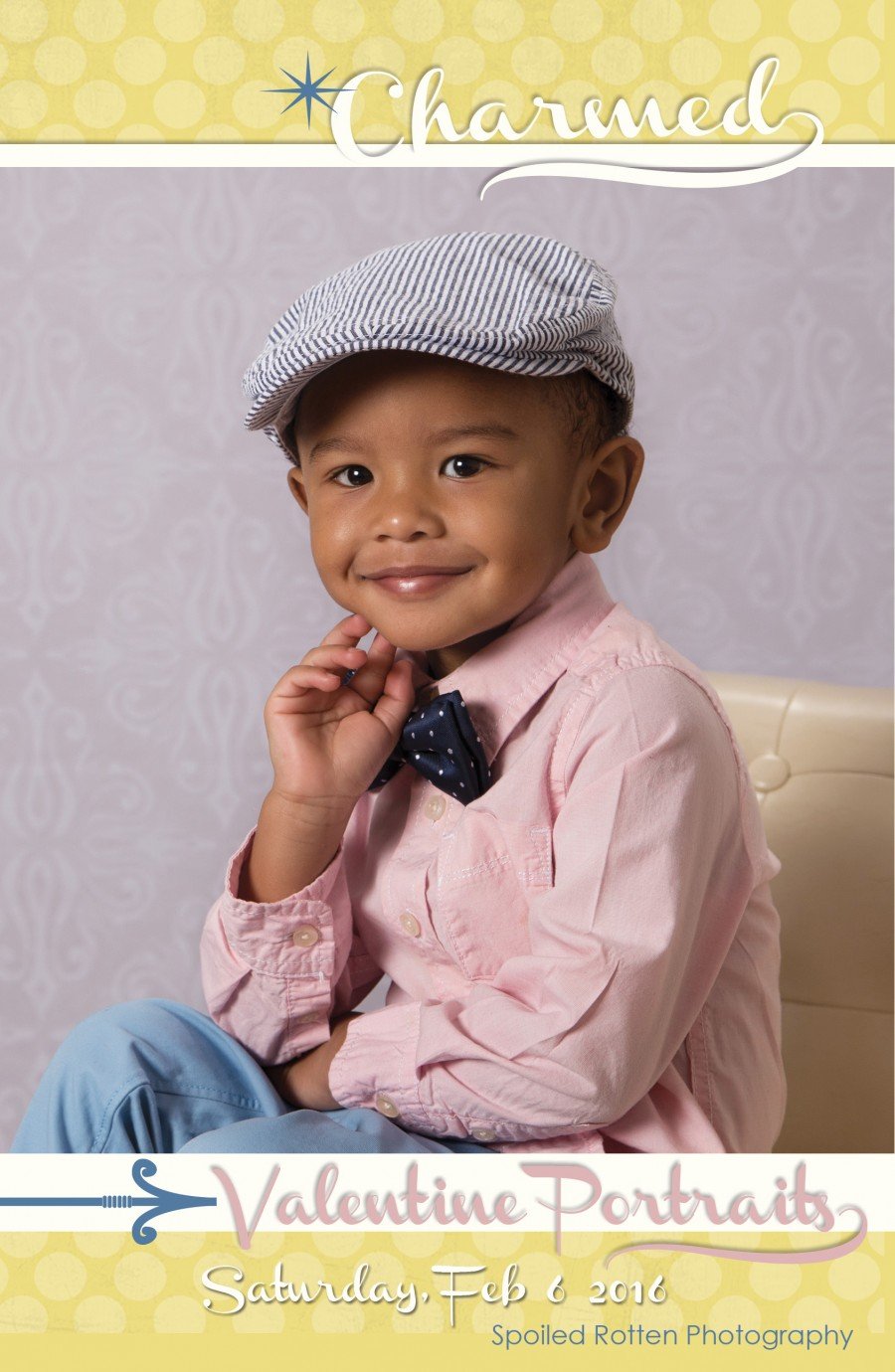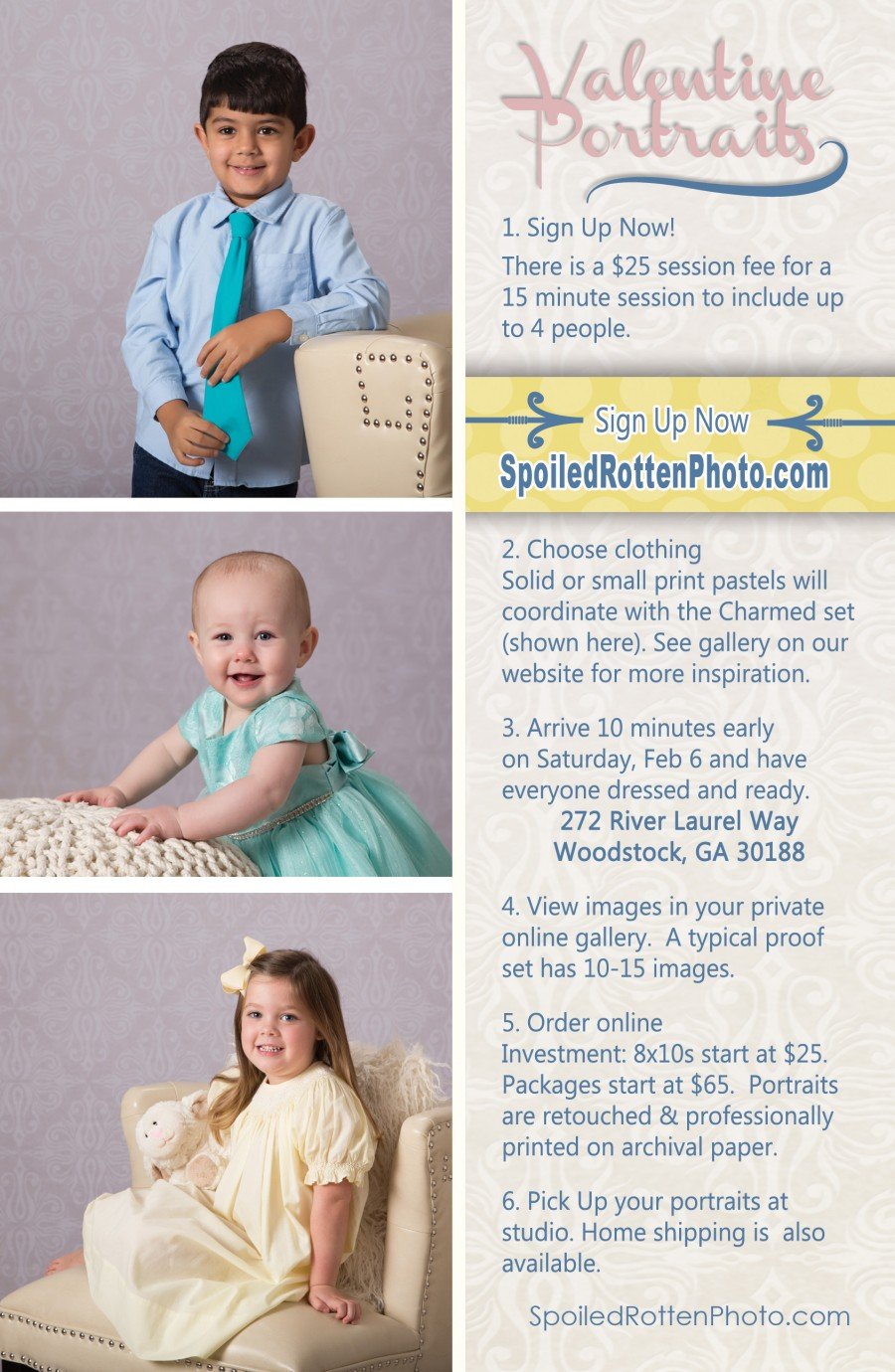 We would love for you to bring your family as we debut our new Spring Set, Charmed, for a special offering of Valentine Mini Sessions.
Valentine Mini Sessions
Saturday, February 6, 2016 
Sessions beginning at 9 am through early afternoon.
1.  Session Fee:  $25 (1-4 people)  add $10 for each additional person photographed
Anyone can be photographed.  Cousins, Families, Single Children- up to you!  A typical proof set will have 15 images.  If we are doing a family session, we will photograph individuals and the family together.
We will contact you with your exact session time.  If you need a specific time, please let us know in the special instructions field when you sign up.  SIGN UP TODAY to assure your preferred time!  There are a limited number of session available.
2.  Choose clothing and props to coordinate with the Charmed set.
Choose classic or fun clothing styles in solid colors or small prints. Yellow, pink, blue, lavender, cream and white look fabulous! Avoid bold patterns, stripes, large logos, or writing. Add layers and accessories (hats, scarves, jackets, bow-ties and jewelry).
Props: Send fresh flowers, wooden toys, dolls, a favorite stuffed animal, musical instrument, their lovie or anything else your child loves!
For a family portrait– you want to look like you all belong together, but not like you are wearing a uniform.  Dress in similar tones.  Here's a hint- lay all your family's clothes out on the bed, if they could somehow all be worn by one clothing item will attract more attention in your portrait too… if the item of clothing stands out too much, you might want to consider substituting something different for that clothing item.
 Props:   You can add fun Valentine elements, or keep it simple for a traditional classic look!   Bring fresh flowers, wooden toys, dolls, a favorite stuffed animal, musical instrument, their lovie or anything else your child loves… well, only if you want to see it in their portrait!

SAMPLE GALLERY OF IMAGES on Charmed Set
—>> See our Pinterest Board for more clothing that we think would look Fabulous! <<—
3. Portraits will be taken at Elizabeth's home studio in the Roswell/Woodstock area.

We we will contact you with your session time.
4. View your images in your private on-line gallery.  A typical proof set has 10-15 images.
You can share your access code with family and friends to show off your images!
5. Order on-line. 8x10s start at $25.  Packages are available with increasing discounts.  Digital options are available for use in Valentine cards or other photo gifts!  A digital artist enhances each image, and portraits are professionally printed.
DEPLOYED SPOUSE PROGRAM…..
If you have a spouse deployed with the US Military, make note of this in the comments section when you order.
Deployed Military spouses will receive a special complimentary gift.
6. Pick Up your portraits.  Portraits can be picked up at the studio location or arrangements can be made to deliver to your child's school.