We have curated a virtual closet full of Spring Portrait clothing that is ready to step into adventure! These outfits have been selected for your preschooler to match the color scheme and design of our custom Spring Mini Session Set – Adventure Awaits.
Whether shy or full of energy, an adventure awaits your child among the turquoise tones of this limited edition portrait set. We have taken the guess work out of how to dress your child for portraits at their preschool this season with a collection of stylish and affordable clothing options that can be ordered and shipped to your door for less than $25. Save time and energy by not having to run all over town looking for that perfect picture day outfit.
In our Spring 2022 Adventure Awaits sample gallery you will find bright and pastel color tones. Bright Spring colors like yellows and blues, or more neutral tones of pink, peach and cream look amazing with the Adventure Awaits Spring Set. For Spring, think – linen, denim, light sweaters, sandals; along with accessories such as: hats, bowties, suspenders, hair bows, and special jewelry.
Our photographers love to work with the personal items you send with your child… a lovie, blankies, fresh flowers, an heirloom toy, etc. When you register your child for mini-sessions, make sure you leave a note about the item you plan to send with your child so we make sure it gets included in a few portraits.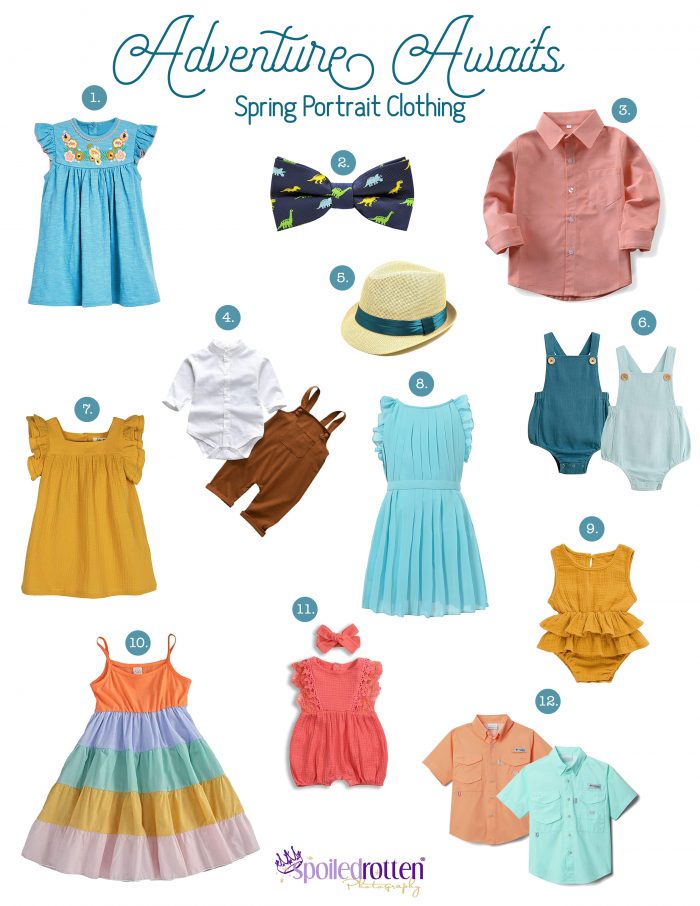 1. Blue Embroidered Dress| Casual striped gray overalls for a toddler boy.
2. Dino Bowtie | Bright colored dino theme bowtie. Pair with a white shirt and jeans for a simple and fun outfit.
3. Peach Button Up Shirt | Classic shirt for boys that comes in a variety of pastel colors.
4. Rust Overalls and White Shirt | Adorable linen outfit for babies and toddlers.
5. Fedora Hat with Teal Ribbon| The perfect accessory for boys or girls.
6. Teal Romper| Several shades of blue rompers, great for sitting babies.
7. Yellow Cotton Dress | Bright mustard yellow dress that will add a stylish pop of color. (Sizing runs small) The blue or tan option would also look amazing!
8. Turquoise Dress | Sweet chiffon pleated dress for your young lady.
9. Yellow Outfit| Sweet bubble outfit that comes in a variety of pastel colors.
10. Pastel Rainbow Twirl Dress | A casual twirling dress that would look amazing paired with a denim jacket or light sweater.
11. Coral Romper | A casual outfit for your baby girl with matching headband.
12. Fishing Shirt| Your little guy will be ready for an adventure on the lake.
Additional choices not pictured, that would look amazing on the Spring Adventure Awaits Set.
Straw Bonnet with Flowers | Cute Spring hat with flower embellishment.
Twirly Rainbow Dress | A casual twirling dress that would look amazing paired with a denim jacket.
Boy's Layered Outfit | Trendy rust colored pants with optional shirt choices or wear both in layers.
Boutique Printed Rainbow Dress | Adorable dress for any little girl.
Butterfly Teal Dress | Ready for chasing butterflies.
Tutu Dress | A simple dress in a favorite color. Dress up with a jacket and accessories.
Baby Romper | Sweet romper for boy or girl with a subtle rainbow design.
Linen Bib Overalls | Cute Summery attire for toddlers.
Casual Dino Outfit | Ready to create your own dino adventure.
*Note: This post contains Amazon affiliate links.
We look forward to working with your sweet children in their Spring portrait clothing at their school.