Outdoor Campus Candids Portraits at Whitesburg Christian
Published on February 15, 2018

WHERE: Outside at WHITESBURG CHRISTIAN ACADEMY (weather permitting)
WHEN: Tues. April 10
SIGN UP BY: Thurs. April 5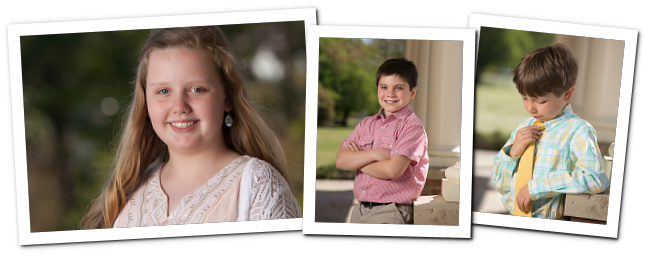 We will only photograph the students that are registered.
There is no pre-payment or obligation to purchase, but we do ask that you sign up by Tuesday, April 3rd


Dress children in clothes you love.
Solids & small prints are best!
Layers and accessories are great!
Avoid bold patterns & stripes.

We'll email you a private link and access code to view your portraits.
You'll have one week to order from your on-line private gallery.
Prices start at $20 a unit (a unit can be 1- 8×10, 2-5x7s, 3- 4x6s or 8 wallets)
Your Spoiled Rotten Photography Family is excited to create beautiful portraits of your sweet kiddos!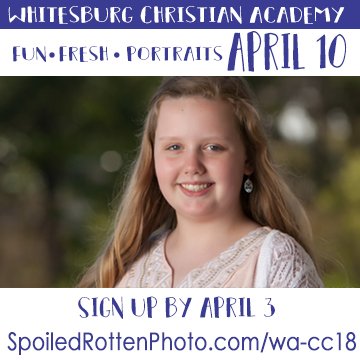 —————–
Spoiled Rotten Photography studios are locally owned by professional photographers who specialize in boutique school and preschool portraits. We are currently located in: Huntsville, AL, Franklin, TN, Alpharetta, GA, Birmingham, AL, Charlotte, NC, Colorado Springs, CO, Charleston, SC, Wilmington, NC, Denver, CO, Castle Rock, CO, Plano TX, and Frisco, TX. For more information about Spoiled Rotten Photography, please visit our website:
www.SpoiledRottenPhotography.com
For franchise information please
CLICK HERE.