Senior Portrait Sessions in Birmingham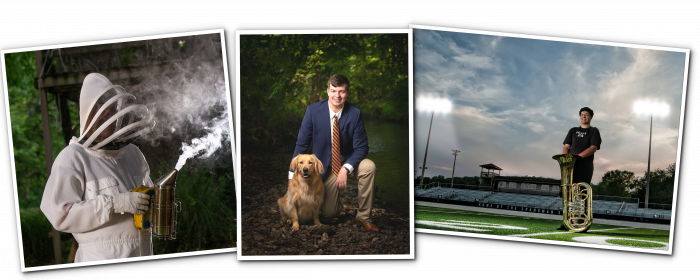 We are now offering, on a limited basis, custom senior portrait sessions. Let's have fun capturing your personality in a session designed just for you.
Details
Types of Portraits
Let's plan at least 3 looks
Formal portrait that your family will be thrilled to hang on the wall.
Casual outfit showing your senior style.
1 to 2 Personality portraits – featuring you and your passions.
See below for a session that we did for a senior that loved his dog, skeet shooting, bee keeping and playing the tuba in marching band!
Timing
Typically we'll choose a week night that we are both available. We'll start about 5:30 with your "formal portrait". Then move into the more casual and passion portraits. But depending on the location choose and activities, it may vary. We'll make a custom plan just for you.
Clothing
Formal : Let's collaborate with mom on the outfit, because this is the one that will probably end up on your's and grandparent's walls. Solids are best. Layers and accessories can add depth and detention to the portrait.
Causal Outfit: Anything goes here. Just be you. Want to add a pet or a best friend? Awesome. Let's plan for that.
Passions: Bring all the stuff. Uniforms, Sports Equipment, Metals, whatever it may be… We can even coordinate to go to a special location if desired.
Send a picture to me of all the clothing, accessories, or activity gear you are considering.
Ordering and Investment
Ordering: Once we capture the images, I will edit and post finished images to our on-line ordering system. You'll have 7 days to make your selections. If you need an ordering consultation, I'll be happy to schedule a zoom meeting to help with selections.
Investment: The session fee is $150. This is for the creation of the images and does not include any portrait products. Also the minimum order is $450. Both the session fee and min. order deposit before the session.
A la carte
8×10 (or smaller) gift prints – 50
11×14 – 150
16×20 – 325
20×24 – 350
Packages
Custom A – 850
One 16×20, two 11x14s, two 8x10s (or smaller) — plus ALL digital files
Custom B – 650
Two 11x14s, two 8x10s (or smaller) — plus 5 digital files
Custom D – 450
8 images — printed as a unit size of your choice (1-8×10, 2-5x7s, 3-4x6s or 8 Wallets) — plus 3 digital files
Custom E – 225
4 images — printed as a unit size of your choice (1-8×10, 2-5x7s, 3-4x6s or 8 Wallets) — plus 1 digital file
How to schedule.
Call Kara. 205-440-3252